This product is available in our webstore – Shop Now

Heliport Perimeter Light
Low intensity constant voltage elevated perimeter light helps mark helipad touchdown and lift-off area (TLOF). The fixture consists of a colored Fresnel lens (globe) mounted on an aviation yellow powder coated cast aluminum lamp housing. The powdercoat finish complies with the US Military Standard Salt Fog Test conducted per MIL-STD-810E, Method 509.3, Procedure 1 for corrosion resistance. The lamp is secured by an O-ring seal and clamp band. The upper assembly mounts on a 1″ EMT extension into the 1.5″ NF aluminum breakable coupling. An optional 2″ NPS breakable coupling is available. All of the hardware is stainless steel.
This fixture may be mounted on a base plate, junction box or stake, sold separately. The light is furnished with wire leads for wiring in the field. Most of the replacement parts are compatible with other manufacturers; consult Flight Light with specific inquires. With a low initial cost and up to 8,000 hours rated lamp life (69W), this fixture is the most economical light we offer.
Ordering Codes
---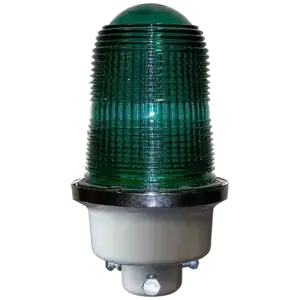 Marine Treated Option
• Recommended for harsh, high-salt coastal and marine environments.
• Protects fixture finish from salt damage and prevents corrosion.
• 3-Step Powder Coat: 1) Primer, 2) Epoxy powder base coat and glossy polyester gray (RAL 7030) powder finish coat, 3) Oven curing.
---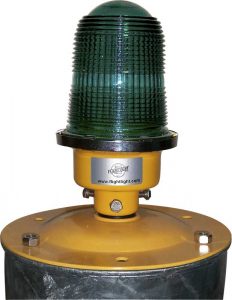 Shallow Base Mounted
With this mounting option the overall installed height is less than 8 inches, complying with AC 150/5390-2B requirements for raised perimeter lights. 5″ Shallow Base and 8.5″ Base Plate (sold separately)
---
Common Replacement Parts
Part Number
Description
61-861G
L861-Glass Green
61-861Y
L861-Glass Yellow
61-80001*
L861-Clamp Band (stainless steel)
61-80002
L861-O-Ring Gasket
FL-FC1.5
L861-1.5″ Frangible Coupling (metal)
FL-FC2.0
L861-2″ Frangible Coupling (metal)
61-80004
Medium Base Socket
LA-15386IP
Lamp: 60 Watt, A21, 230V (1,000 rated life)
LA-12496-1
Lamp: 69 Watt, A21, 120V (8,000 rated life)
* Clamp band only compatible with Flight Light fixtures.
---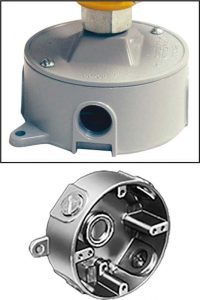 Low Surface Mount
Rain and snow won't hurt these corrosion-resistant boxes. They feature a powder coating and are UL listed and CSA certified.
The boxes are aluminum and have NPSM (National Pipe Straight Mechanical) threaded hubs in the back and sides for secure connection to conduit and fittings. They come with closure plugs for unused hubs, a grounding screw, and attachable mounting lugs. The boxes may be mounted horizontally and vertically.
Single-device (1 gang) boxes hold one toggle switch, GFCI, duplex receptacle, or other electrical device; two-device (2 gang) boxes hold two.
Specifications:
• Number of Hubs: 5
• Hub Trade Size: 1/2″
• Overall Size: Diameter 4-5/16″, Height 2-1/4″
• Capacity: 16.5 cu. in.
• Finish: powder coating, gray
Note: Trade size refers to an industry designation for conduit and fittings and is not an actual measurement. When selecting a box, match the trade size of the conduit.