This product is available in our webstore – Shop Now

Compliance
• ICAO Annex 14, Vol II, 1999
ICAO Type: Touchdown and lift-off area perimeter light for helicopter non-instrument and non-precision approaches.
• Exceeds FAA Eng. Brief 87 Specs
• IP67 Compliant
Applications
Our heliport perimeter lights provide an LED based solution to the ICAO touchdown and lift-off area perimeter style of steady-burning lights. The lights are currently available with green, blue, red, clear, yellow or infrared LEDs operating at 100-277 VAC, 12-48 VDC, or 10-30 VDC (dimming). Each configuration is available as original equipment or as direct lens/lamp field retrofit to existing conventional light bases. This fixture may be mounted on a base plate, stake or Low Surface Mount, sold separately.
Ordering Codes
Spare Parts
Features
• LED life rated up to 70,000 hours
• 95% less power than an equivalent incandescent light
• 2.4 – 4 watts power consumption
• Available with green, blue, red, clear, yellow or infrared LEDs
• 3-Step Dimming Controller to minimize nighttime glare available.
• Weather/corrosion resistant machined aluminum construction with aviation yellow powder coat finish and stainless steel hardware
• IP Rating: IP67
• Self contained wiring compartment eliminates additional boxes
• Resistant to shock and vibration
• Direct replacement for existing incandescent lighting
• 5 year warranty
---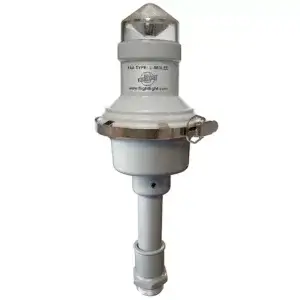 Marine Treated Option
• Recommended for harsh, high-salt coastal and marine environments.
• Protects fixture finish from salt damage and prevents corrosion.
• 3-Step Powder Coat: 1) Primer, 2) Epoxy powder base coat and glossy polyester gray (RAL 7030) powder finish coat, 3) Oven curing.
---
Visible/Infrared LED Option
Common LED lights can pose a hazard to pilots using Night Vision Goggles (NVGs). This is due to the fact that NVGs typically use filters to block cockpit lighting from saturating the imaging system. This has the unintended effect of making LED lights invisible to pilots. In response, we have incorporated NVG friendly technology into our perimeter light, giving pilots using night vision goggles unmatched visibility of the helipad touchdown and lift-off area (TLOF).
Dimming Option
With the dimming option, the lights can be dimmed at night to reduce glare. Three brightness levels can be selected. The dimming option is only available with a Flight Light 3-Step Dimming Controller.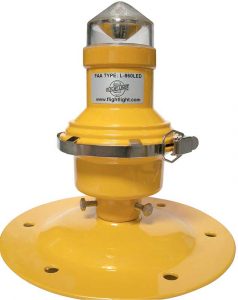 Shallow Base Mounted
With this mounting option the overall installed height is less than 8 inches, complying with AC 150/5390-2B requirements for raised perimeter lights. 5″ Shallow Base and 8.5″ Base Plate sold separately.
---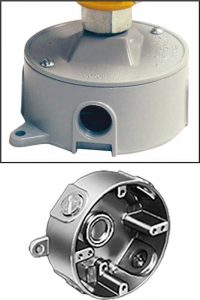 Low Surface Mount
Rain and snow won't hurt these corrosion-resistant boxes. They feature a powder coating and are UL listed and CSA certified.
The boxes are aluminum and have NPSM (National Pipe Straight Mechanical) threaded hubs in the back and sides for secure connection to conduit and fittings. They come with closure plugs for unused hubs, a grounding screw, and attachable mounting lugs. The boxes may be mounted horizontally and vertically.
Single-device (1 gang) boxes hold one toggle switch, GFCI, duplex receptacle, or other electrical device; two-device (2 gang) boxes hold two.
Specifications
• Number of Hubs: 5
• Hub Trade Size: 1/2″
• Overall Size: Diameter 4-5/16″, Height 2-1/4″
• Capacity: 16.5 cu. in.
• Finish: powder coating, gray
Note: Trade size refers to an industry designation for conduit and fittings and is not an actual measurement. When selecting a box, match the trade size of the conduit.