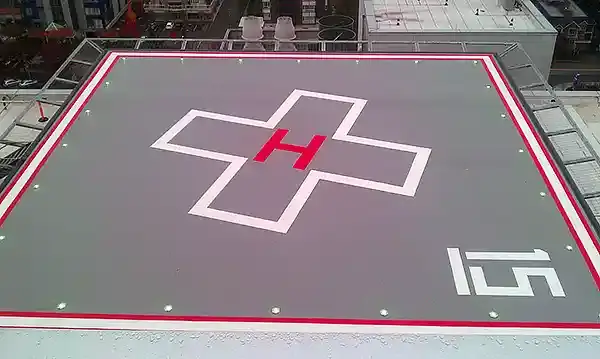 Hospital Heliports
With the goal of providing faster access to life-saving medical care, many hospitals build onsite heliports to reduce transportation time and facilitate treatment of patients suffering from life-threatening injuries and conditions such as heart attacks and strokes. Doctors refer to the 'golden hour' as the vital time period a patient suffering from traumatic injury or medical emergency should receive proper medical assistance to prevent death or irreparable damage to body parts and organs. When minutes count, an onsite heliport can help save lives by providing timely care to injured and critically ill patients.
Special consideration should be made for magnetic interference hazards at hospital heliports. Magnetic Resonance Imaging (MRI) may impact a helicopter's navigational instruments. So, during site selection, distance from the MRI area of your facility should be considered. Also, magnetic interference warning signs can be added to alert pilots to the presence of nearby strong magnetic fields.
Hospital heliports are generally located at ground level or on rooftops, as close as possible to the emergency/trauma area for incoming patients. There are many factors to consider when deciding between a ground or rooftop heliport:
Ground Heliport Pros
• Simple design
• Lower cost
• Shorter construction time
• Easy to install fuel
Ground Heliport Cons
• Less privacy
• More foot and vehicle traffic
• Less security
• More obstructions
Rooftop Heliport Pros
• More privacy
• No foot or vehicle traffic
• Better security
• Less obstructions
Rooftop Heliport Cons
• Complex design
• Higher cost
• Longer construction time
• Difficult to install fuel
For design guidance on locating, planning, and building a hospital heliport, please consult FAA Advisory Circular 150/5390-2C, Chapter 4: Hospital Heliports. Flight Light recommends that anyone constructing or modifying a heliport should determine all site-specific requirements and consult with a local FAA representative.
---
Hospital Heliport Installations
Below is a partial list of hospital heliports that have installed Flight Light hospital heliport fixtures.